Yesterday, Nokia execs teased the world's tech bloggers by saying that they had a big announcement, and were surprised that it hadn't leaked. I'm surprised too – the big announcement is the N97. It's the followup to their brilliant, and ridiculously successful N95, and semi-upgrade the N96.
The specs on this baby promise a lot. It'll have a 3.5″, 640 x 360 touchscreen display (16:9, not 16:10), a QWERTY keyboard, HSDPA and Wi-Fi, 32GB(!) of onboard memory, a 5 megapixel camera with Carl Zeiss optics, "DVD-quality" video capture (eat that, iPhone), and a battery that promises to pump out a day and a half of continuous audio playback. No mention of GPS, but I'd be very surprised if it lacks it.
Best of all, Nokia promises an 'always-open' window to the internet and social networking sites. If that integration runs clearly through the phone, it could be very powerful indeed. This is Nokia's answer to the iPhone. The specs certainly win the day, but can they crack the all-important interface? We'll have to wait and see.
Nokia N97 (via N96 Bruce Lee edition – enter the handset | MWC 2008: Nokia N96 versus Nokia N95

The N95 may be one of the closest handsets to rival the iPhone in terms of applications, however it lacks one rather important element: a touch-screen. Sure, we may be seeing a touch-screen mobile from Nokia later in the year, but who knows if it will have the same amount of beef inside it as the N95.
That's why we're so thrilled with developer Sittiphol Phanvilai, who has modded an N95 with multi-touch. Using a TV Out, UV lightpens, a flat-screen monitor and UV-filtering film, you can see the awesome results in the video above….
A friend of mine was bitching to me the other day, with N95 in hand, about N-Gage. "It's not the platform itself," he said to me, "it's just that it's really awkward to use," and it seems that someone out there was listening because you can now use the N95's two multimedia buttons to game with…

The things I do to review camera phones for you lot! I'm a tad bit scared of heights, yet I just went up the famous London Eye to test five of the best models money can buy you. Featuring the Nokia N95, LG Viewty, Samsung G800, Sony Ericsson K850i and Apple iPhone, which do you think will succeed in taking the best shot of the Houses of Parliament?…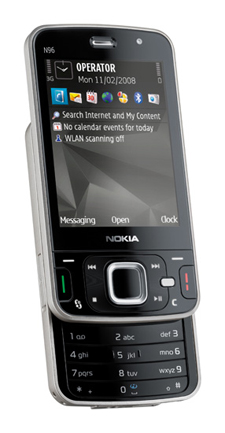 Nokia's suddenly entered the MWC game, with their N96 causing a huge buzz over in Barcelona.
It's got a – get this – 16GB internal memory capacity, alongside a microSD slot. Perfect for storing photos taken on the 5-megapixel camera with Carl Zeiss optics lens, flash and video light, and videos which are taken at 30 frames per second. The ability to geo-tag your photos using the A-GPS system is also touted…
Remember, remember the 5th of the November – that's how the saying goes. Now Guy Fawkes, there was a man who knew a thing or too about making a statement. If only he'd have done it with his gadgets though and shown off his status with some bling, rather than trying to blow up the Houses of Parliament.
So, as it's Firework Night today, what better way to mark it than with five top sparklers from the techno-world. Unfortunately, not all of them can be waved around in the air and they don't make pretty colours in the smoke, but with gold and crystals on them, each one definitely costs more than a penny for the guy…
Nokia has said that it plans to use the mapping technology from recently acquired company Navteq to develop the mapping applications it can offer to its handset users. An area it believes is "totally underdeveloped" is pedestrian location-based services. having…
Nokia's N95 was one of the most hotly-anticipated mobile phones this year (sorry, multimedia computers), but it has faced criticism on two main fronts – its battery life, and its GPS feature.
Nokia's N95 pocket supercomputerphone is heading for an upgrade, if findings on Nokia's web site are to be believed.
An unformatted XML page supposedly reveals plans for an updated 8GB version of the phone – and yes, that's all anyone has to go on right now.