Retina-X Studios have released Mobile Spy, an iPad app that runs secretly in the background of the tablet, tracking email and web history. The software will only run on jailbroken iPads, which is convenient, as this is never getting past…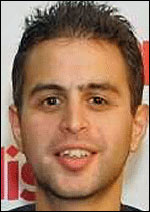 Yep, you're right, that is an album by Hard-Fi but it's a serious point, because a funny thing happened to me today – I went to the dentist! Nothing particular humorous in that, no you are right, but seriously I am telling the tooth! Ok, enough with the bad jokes already.
As I sat in the dentist chair, he said there was something he wanted to show me and quickly thrust it towards my mouth. I was a bit shocked but suddenly it all became clear – he's had a techno-makeover in the surgery. And boy, what an exciting 10 minutes it was…
We're several weeks into the new series of Big Brother here in the UK, and already the housemates have reached the 'shouting on endlessly about pointless arguments that really don't matter' stage. In fact, they've been there from about Day Five.
And even after reading the press release three times, we're still not particularly sure what it's meant for.
It is, apparently, a device that shows communication structures within companies, so you can see who does any work and who just sits there on Messenger chatting to their mates about Big Brother all day.
Cor. Facebook launched their applications a few weeks ago now, and they've taken off like a rocket. I've noticed friends signing up to six or seven a day, even the ones who wouldn't normally know a Web 2.0 widget if it bit them on the nose. Here's this week's five new(ish) Facebook apps worth adding to your profile, anyway.

The boys in the know at Hecklerspray are putting some nice money on the table in the hopes Jade Goody will be re-entering the Big Brother house (for the third time) next week when the eight installment desecrates our television sets. It's got us thinking about what you'd need to smuggle into the house with you in order to survive the relentless mouthing-off from Goody's "immense pikey gob", as Hecklerspray calls it…

Did you know that every time you walk down the high street, your movements are logged by 16 CCTV cameras? And the footage is transmitted directly to MI5 headquarters, to be tagged and analysed. By robots. This is the Big Brother nation we live in, etc etc.
But the government won't stop there. For most of us, new technology is just a new way to listen to our music / manage our working lives / record every episode of M*A*S*H ever made to view on our watch. But for The Man, new technology offers a myriad of ways to spy on us. Here's ten of the most nefarious.
Channel 4 have announced that the next wave of Big Brother hopefuls can audition online. In true YouTube fashion, potential cellmates can upload their audition videos and have them rated by other site users….