As well as the addition of Myspace Music charts and iTunes download links, the Myspace Music launch will be complimented by a host of exclusive content from the likes of 50 Cent, Alicia Keys and Lost Prophets.
The making of Fiddy's computer game hasn't been without difficulty, but after two years, it's finally due for a release in January. Still, the delay means one thing – the man himself has had a chance to get good at it:
"I actually had the opportunity to play it, and I'm pretty good at it. If anybody out there wants to create a challenge or wants to bet some money online, we could play the game right now."
It'll have 19 new, exclusive, tracks, as well as a bunch of Fiddy's older stuff, including the big hits. Oh, and bizarrely, it's apparently inspired by Leonardo DiCaprio's 2006 film "Blood Diamond". Still, I bet I could kick his arse at it, without too much trouble. You're on, Fiddy.
50 Cent: Blood on the Sand (via MTV.com)
Related posts: 50 Cent lining up MASSIVE £150m deal with Live Nation? | 50 Cent launches his own social network 🙁
Live Nation's basically a concert promoter, the one that organised the marginally successful and very worthy Live 8 arena shows. It's also the new cool company for successful MEGA-ACTS to sign with when their traditional "deals" expire.
Signing with Live Nation means more cash/money up front for the artist, with Nation recouping the cash via record sales and touring revenues – previously dealt with separately – as it works the artist into the ground like a pit pony.
The newest beneficiary of the "joined up" marketing/selling deal is 50 Cent who, according to rumours, is set to SMASH Madonna's $120m deal…
If you can't get enough of the irritating rapper, you can now get MORE of the irritating rapper – by joining his social networking site ThisIs50.com.
The site fits in with the MySpace design ethic – it's right old a mess. Loads of embedded videos and music players all battle for your attention, among numerous messages about the exciting solo projects…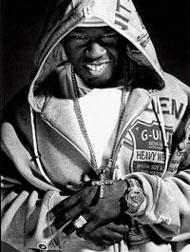 Heart of gold, that man.
50 Cent kind of isn't that bothered about file-sharing, as he realises the music industry needs to change – and that artists can make money in other ways than flogging them an album every year.
He said in his slightly odd drawl – "The concerts are crowded and the industry must understand that they have to manage all the 360 degrees around an artist. They have to maximize their income…
That's what The Times reckons, anyway. In a report this weekend, the newspaper claimed that Universal Music is launching a trial of DRM-free digital music, to see if it's worth following fellow major label EMI in ditching copyright protection.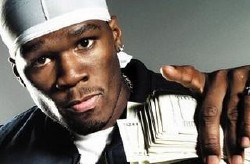 Second Life isn't the only virtual world in town, y'know. The success of Linden Labs' world (well, the media hype surrounding it) has spawned a series of rivals all hoping to cash in on virtuality. One is Zwinktopia, which has just signed a deal for rapper 50 Cent to open his own boutique there.
If 50 Cent is reading this (and I hear he's a big fan of UK-based technology blogs. And also hos.) I've found your next TV, homie. Philips are celebrating their 1 millionth Ambilight telly by encrusting one in over 2000…