BBC Worldwide has announced a deal which will see a range of the Corporation's natural history, travel, and factual programmes placed on the Internet TV platform Babelgum.
Excerpts from shows such as David Attenborough's documentaries, Top Gear, and Tribe, will be globally available on three new branded channels: "BBC LoveEarth", "BBC Knowledge", and "BBC Entertainment"…
Babelgum, the global online free TV network, has revamped its web TV platform, adding a number of new features and expanding the number of platforms it works on.
Great news for Mac users hoping to use the service… you can! In addition, there are now three new Communities: Films & Festivals, Motorcycling, and Nature & Conservation. Don't worry, that's just the first of a growing series. Each of these communities offers up an interactive message board, video clips, and links to member profiles. Users can also create their own personal video playlists and customise their profiles…
Interactive web TV portal Babelgum has released over one thousand international film entries to public voting. These professionally produced short films are now available for anyone with a broadband connection to view and vote upon.
A shortlist will be created from the most popular user-voted films, which will go on to be judged by director Spike Lee and a professional panel.
Part of our series of festive posts looking back at the key happenings in 2007… One of the more exciting developments in 2007 for webheads was the emergence of a clutch of 'Telly 2.0' startups (I'm persisting with that moniker until it catches on) like Joost, Babelgum and VeohTV. Each offered an array of exclusive channels, mixing music, entertainment and weirdness.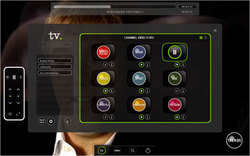 Valerio Zingarelli, CEO of Babelgum, the prolific IPTV service, believes that next year will see the rise of Web TV.
According to recent research from Nielsen, nearly 21 million Brits visited a TV, video, or movie-related website in September this year, up 28% on the previous year. Additionally, Internet TV services are currently available to the 12 million UK households with a broadband connection.
The downside of Telly 2.0 services like Joost and VeohTV are that you have to download a new application for each of them, clogging up your PC if you're the kind of channel-surfing ho' who wants to use all three. Someone's hacked together an AJAX version of Joost, but it's early days.
Stuart Dredge writes… On British TV, a million viewers isn't anything to shout about unless you're a niche digital channel. But online, news that Telly 2.0 service Joost has signed up over a million users will be greeted by cheers….
Stuart Dredge writes… Online TV firm Joost is doubtless proud of its deal with Viacom to stream new VH1 sitcom 'I Hate My 30s' ten days before it premieres on VH1's actual TV channel. And it's true that every deal…
Just a couple of days ago I was writing about how online TV is set to explode in the next six months, thanks to firms like Joost and Babelgum. Now another startup has joined the fray: Veoh Networks. It launched its VeohTV service today, in beta naturally.