O2 Wallet – using your phone as your Oyster/Paywave/etc card
Share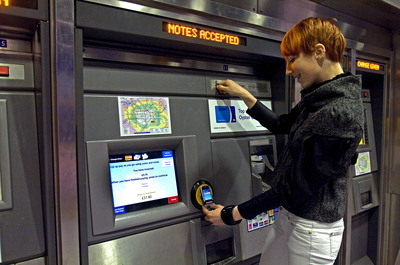 O2 have just completed a test of "near field communications". It's the technology used in Visa Paywave cards, Oyster cards, cards that let you into your block of flats, and all sorts of things. A similar sort of thing to the Barclaycard OnePulse card, but they want to put it into your phone so you don't have to carry around a physical card. Good idea in theory. But what about in practice?
Well, O2 have been field trialling it. They gave 500 people a Nokia 6131 with the technology inside and asked them to use it exclusively for six months. The results are pretty positive – 78% wanted to carry on using it in the future, and 9/10 were happy with how the technology worked, so it's nice and idiot-proof.
With regards to the replacement of Oyster cards, people loved it. 89% of the participants wanted to carry on using it, and 87% said it would influence their purchasing decision if the functionality were only available on a limited range of handsets. One in five of the participants even said that they increased the number of journeys they took on public transport due to the technology – a figure that I find a little hard to believe.
People were less keen on the contactless payments functionality. Only 47% of people said it was better than using cash, which I suspect might be due to the limited availability of places that you can pay using this method. McDonalds and Crispy Creme donuts are all very well, but if you can't use it in your cornershop then the functionality is less useful.
Oh, and if you're worried about security issues with a service like this, then you can be calmed a little by the knowledge that if the phone is lost or stolen, then one phone call to O2 can cut off all functionality of the device. Criminals can't steal your phone and then ride around on the tube pretending to be you.
O2 are currently working with Nokia on the project, and they said they were talking to other manufacturers, but wouldn't name any names. In the long-term they want to get all carriers, all handset manufacturers, and all major banks and retailers on board. An ambitious goal, but the prize will be worth it if they can pull it off.
The service is also still a way off commercial availability. The O2 spokeswoman wouldn't narrow down the timescale very much, saying that it would be likely more than six months but less than five years. The next step for O2 is to really push the mass-market appeal of the service, so they're putting together a "taskforce" of retailers, banks and any other interested parties to work on that. Let's hope that between them, this tech can be in our hands sooner, rather than later.
O2
Related posts: iPhone 3G PAYG coming to O2: 16th September from £349.99 | O2 and Sony BMG launch MyPlay 'artist led' music store – still costs money though
For latest tech stories go to TechDigest.tv