It's been a while since we've marvelled over TokyoFlash's wristwatches, but the Japanese company has returned with its latest creation — the Kisai Keisan.
The watch combines a raised convex bubble lens with precision-engineered optical technology which diffuses the LEDs for a bright, magnified lighting effect. At least, that's what TokyoFlash says…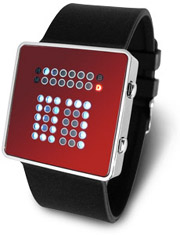 We always end up mentioning the new developments down at the insane offices of Tokyoflash, thanks to their regular output of exciting watches with interesting looks.
Tibida's particularly striking, thanks to featuring 42 little white LEDs. Which, it is rumoured, well-trained wearers are able to interpret to use as a rough guide about what the time is. Or, at least, what the time is near.
Fortunately, the new Tibida comes with a handy visual guide that explains exactly how you're supposed to tell what the time is with it.
Here's how it works:

God bless Tokyoflash. They keep coming up with frankly bonkers watches that, even if you can't actually tell the time on them, are still insanely desirable gadgets. Such is the case with the new Radio Active.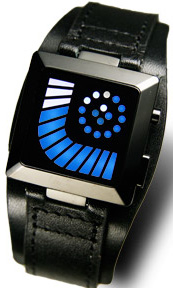 I don't think I know a single person who doesn't love Tokyo Flash watches, but then, I don't think I know a single person who actually knows how to read the time on one of their famously-complicated watch faces.
The Japanese company has a new model out, 'Kyokusen', which has apparently been inspired by Tokyo, as shown through the digital tubes, curved lines and bright lights. 'Kyokusen' means 'curved lines' in Japanese, and…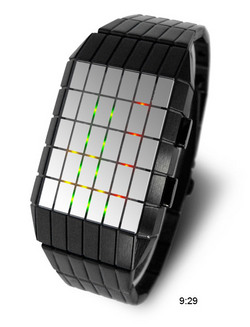 I won't foist the old 'oh, you can't tell the time on Tokyo Flash watches' line on you, since any fule kno that readability isn't the point. Instead, it's all about being seen as a timepiece-toting god amongst men (even if you're always late for meetings).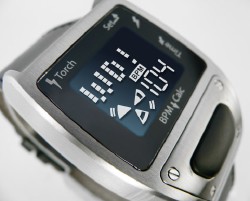 Ever wondered why so many DJs keep grabbing the mic to shout 'DO YA KNOW WHAT TIME IT IS?' to the crowd? Because they've forgotten to wear their watch that night, of course. They don't want to miss the nightbus home, after all.