Yesterday I got hands-on with the Portégé M800 laptop minutes after it was announced, and have to say I was really impressed with my first trial of it. With its white glossy casing, silver accents and white LED lights, you'd be forgiven for thinking it was an updated MacBook. But no – it runs Vista, and will…
At a press launch in Paris this morning, Toshiba has given the masses a couple of new laptop models to gnaw their teeth over indecisively. The Portégé M800, pictured, is unlike their previous Portégé offering (the R500), as it's finished in a pearl-white casing, with silver contrasts and white LEDs.
Measuring in at 13.3″, it will be released into the wild in Europe, the Middle East and Africa later this year, Q3 to be 'precise'…
Toshiba's slinky little Portégé R500 notebook has just received some after-release love, in the shape of a 128GB solid state drive.
Up until now, you and I have had to put up with its paltry 64GB drive, which has ensured its world's lightest and thinnest title (well, before the MacBook Air came along and ruined it all). The new weight of the notebook looks to be 979g, with the original…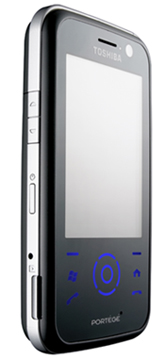 Spanning laptops and mobile phones, Toshiba is adding to their Portégé range with the G810 touchscreen handset. Yes, you've heard the model number 'G810' before – Samsung announced a handset by the same name today at MWC, and LG released the KG810 clamshell back in October of last year.
Running on Windows Mobile 6, it's got HSDPA and HSUPA support, integral for the push email and web-browsing WM6 is renowned…

Our latest round-up for this week revolves around laptop computers. Or notebooks, if you like to call them by their 'trendy' analogue name. I've enlisted the help of Katie, so if you're in the market for a new laptop/notebook, or simply like to dribble at new pieces of kit, take a look at the above video…

You've heard me rave on and on about the Toshiba Portégé R500 notebook in recent weeks, so here's an opportunity to see just what all the fuss is about…

My second interview with English explorer David Hempleman-Adams sees him joined with Head of Marketing for Toshiba Europe, Manuel Linneg. High on Signal Hill, in St. John's, Newfoundland, Canada, we discussed the Portégé R500 notebook which Hemplamn-Adams carried with him on his world-record breaking transatlantic journey, and just how it would help him on the dangerous trip…

As you read on the weekend, I've spent the past few days in Newfoundland, Canada, peeking in on the life of English explorer David Hempleman-Adams as he prepares for his world-record attempt at crossing the Atlantic in the world's smallest helium-powered balloon. I managed to grab a few minutes before he departed into the air, to discuss his trip, and the Toshiba Portégé R500 notebook which he carried aboard…

As you know, Susi is swanning around Madison Avenue in New York for the Apple iPhone launch, giving all us Tech Digest-ers larger green eyes than, err, witches have. Or something.