SonyBMG, soon to be Sony Music Entertainment Inc, is one of the four major music labels, and features bands and artists like the Ting Tings, AC/DC and Dido. If rumours are correct, then music from those bands and many others will soon be available on the iTunes store DRM-free.
Currently, EMI are the only major label to offer MP3 files on iTunes Plus – Apple's name for their DRM-free, slightly higher quality, offering that costs 25% more per track than DRMed files. If Sony's music is added, it will be a plus for Apple, but they still lag far far behind services like 7digital, who are 100% DRM-free, and remain my a la carte MP3 download provider of choice.
While we're at it, do you know what the most downloaded catalogue song ever on iTunes is? Soundscan, over the weekend, determined that it's the epic "Don't Stop Believin'" by Journey. Classic. I've embedded a video of them playing it live just after the jump. Power Ballads first thing on a Monday morning are just what everyone needs.
The music industry has been waging a battle against Russian music download site AllOfMP3 in recent months, over the way the latter sells digital downloads of brand new albums for less than a couple of dollars. However, it seems the floodgates could be opening for similar sites.
It's iTunes Plus day here on Tech Digest, and I've been scooting through the iTunes Store to see what albums are available as higher-quality DRM-free downloads.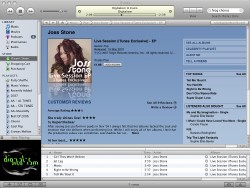 So, Apple launched its iTunes Plus DRM-free downloads yesterday, and the company is already catching flak for embedding users' names and email addresses in the files they download. The big idea is that you'll be able to play the files on devices other than iPods. So what do they work on?
Apple launched its iTunes Plus DRM-free downloads yesterday, but the company is already being criticised for the way that whenever you buy one of the iTunes Plus songs, your name and email address is embedded in its tags.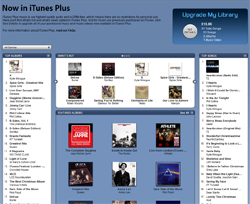 Something's up in iTunes-land. It's 7.55am, and I've just switched on my Mac. The Software Update application is asking me to download iTunes 7.2, which will allow me to "preview and purchase iTunes Plus music – new higher-quality DRM-free music downloads from participating music labels".