Nicole Kidman may have been fooled by its cute brain teasing charms, but Tech Digest were never truly convinced. Now there's proof: new research shows that brain training games do not improve your IQ. A scientific study of 11,430…
Nintendo has filed a patent for a new force feedback system which has sparked speculation that the next DS handheld console will have rumble features. The patent, which is an add-on to one previously filed in 2005, seemingly shows the…
New Ravers, rejoice! ColorWare have added the DS Lite to their library of customisable gaming hardware. Using the online palette, you can select your own garish combination of glossy, scratch resistant finishes. There's even a metallic paint option 'with sparkling flakes', which may or may not end up looking like the stuff they use on bumper cars at the fair.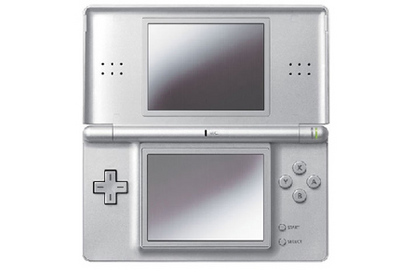 Does the world want silver handheld gaming devices? I've always been quite pleased that Nintendo and Sony have shunned traditional gadget hues in favour of sleek black or white devices (or, in recent times, multicoloured ones).
Nevertheless, Nintendo has announced that its silver DS Lite will go on sale in Europe on 12th October for £99, which the company optimistically claims is "the perfect accessory whatever you're wearing!" What if you're clad entirely in gold?