Alienware delivers world's most powerful Quad Core graphics rig – finally, a machine that can run Crysis properly?
Share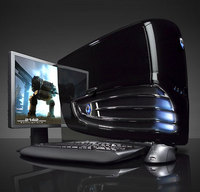 Alienware has announced that it is launching ATI CrossFireX on its top-end ALX desktop machines. This is the manufacturer's first first-ever quad GPU solution to support DirectX 10.1.
Inside you'll find two ATI Radeon HD 3870 X2 graphics cards – each card houses two GPUs and 1GB of video RAM. ATI's latest Catalyst software also lets you manually toy about with the memory and engine clock speeds to get the very most out of your hardware. Don't be surprised though if you get over excited in your efforts to make Crysis run at its highest settings and end up unable to hear anything over the cacophony of whirring fans.
The rest of the system spec and price is largely determined by you when you buy it. You can pick up the latest 45nm Core 2 Extreme CPUs and stupidly fast DDR3 RAM – you can even stick a Blu-ray drive in there if you're feeling particularly flush. Just bear in mind that the system will set you back well in excess of three grand before you even start adding fancy things like monitors and decent sound cards or proper keyboards.
Alienware
Related posts
Those m15x Area-51 notebooks from Alienware? Yep, they're on sale…
CES 2008: Alienware debuts curvy 2880×900 gaming monitor
For latest tech stories go to TechDigest.tv