If your journey home last Friday involved traversing Liverpool Street station, you might have had some trouble. The London station was forced to close for an hour and a half, from 7pm, due to an 11,000-strong flash mob mimicking T-Mobile's recent adverts featuring silent dancers.
Are you listening to music? Turn it down, or off for a moment. Now go visit @tweejay on Twitter, and sing along in your head for a moment to whatever's at the top. Congratulations, you've just enjoyed the delights of Twadio.
It's the first 'silent radio station', where every five minutes, a song is posted. Listeners who sign up are notified via @tweejay, and across the world, the same song suddenly gets stuck in millions of people's heads. Brilliant, or an evil plot to get "U can't touch this" in your head? Let us know what you think in the comments.
Tweejay (via @dubber)
Related posts: Britney, Obama and Fox News' Twitter accounts get hacked | Twitterer liveblogs his own plane crash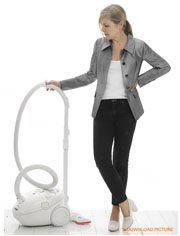 Even vacuum cleaners have to be right fashionable now. They used to be brown. You could kick them and it didn't matter. Mum had the same one for 19 years. You'd throw them under the stairs and treat them like a Victorian man would treat his servants and children.
Now vacuum cleaners are no longer our humble menial servants to keep hidden away. They are iPod-styled conversation starters for dinner parties..