Hardcore power-laptop maker Rock has decided to dump its HD DVD-exclusive stance and let buyers stick Blu-ray drives in its range of gaming laptop beasts should they so desire.
Rock's CEO Nick Boardman said "We're disappointed that HD-DVD didn't make it and we value the support Toshiba has given us. Although Blu-ray has technical advantages…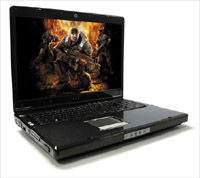 Hardcore power laptop specialist Rock has just announced its new Xtreme SL8, which it believes to have the hardest-rocking graphics card of any laptop on the market right now.
Coming with two NVIDIA 8800M GTX graphics cards for full SLi power and an Intel Quad-core brain, it's pretty hard to argue with its power boasts. Plus the SL8 can also be fitted with a 1TB RAID array for storage space beyond your wildest storage space fantasies…
Keane are set to release their next single "Nothing In My Way" on a limited edition USB flash drive, according to their record label. Just 1500 devices will go on sale with a MP3 version of the single plus a…