You know those photo-stitching options you get on digital cameras and phones? You know how they're rubbish and they never work? So you never use them? Because they're rubbish? And they never work?
Well this one does. The GigaPan EPIC works because it removes the human being and it's wobbly handy and blurry vision from the equation, automatically taking then building panoramic photos with megapixel counts that can hit the thousands.
You plop your digital camera in the holder and DigiPan's PRECISE MOTORISED HAND rotates, snaps and builds…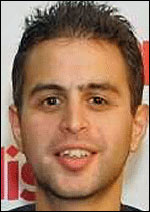 Jonathan Weinberg writes…
Just a week ago I called on advertisers to think more deeply about which websites they want their brands to be associated with. It came as a response to the Panorama BBC investigation into violent beatings and fights being filmed by youngsters and posted on the popular websites in the name of entertainment.
And now, it seems the money men are sitting up and taking notice. Obviously, I don't – and can't – claim the credit for that but I'm not sure I want to in this case, because on this one, I actually think they've got it wrong.
A few days ago Vodafone and First Direct, two of the UK's leading firms, decided to withdraw their advertising from Facebook because it might end up appearing on pages run by the British National Party. Now we can debate the BNP's stance all day and night but the fact remains they are a legitimate political party able to stand in council and general elections…

– Microsoft's Zune MP3-player has already met sales targets ahead of its late-June hopes of one million units sold. Paltry, in comparison to Apple's 100 million-plus iPods sold. 🙁
– A British science teacher has reported they kicked-out BBC's Panorama team from the school for practising 'bad science'. So, a bunch of kids can detect nonsense scaremongering, but the general public…
The fallout is continuing over last week's BBC Panorama programme about Wi-Fi radiation. Ben Goldacre, who writes the Guardian's Bad Science column, laid into the Beeb this weekend over the way it measured Wi-Fi radiation in the show.
It might look something like this. Designer Ye Chen is responsible for the concept product, which sadly isn't actually being made by Nikon. Not yet, anyway. He's billed it as the Coolpix 360, with the big innovation being a rotating head that would allow you to take full 360-degree photos.
Manage to free up some of your time last night to catch the BBC's Panorama special concerning Wi-Fi dangers to your health? No? Too busy watching Coronation Street on ITV? This is your health we're talking about, readers! Although that Ken, ruining Deidre's life, makes for interesting viewing…
More on the Wi-Fi / radiation story, in advance of the BBC's Panorama show to be screened later this evening. As one of the companies putting Wi-Fi into the homes of millions of Brits, you'd expect BT to have views. And so they do.
The debate on whether Wi-Fi is bad for your kids' health is still thrumming in advance of tonight's episode of Panorama investigating the issue. I've had my say on how worrying it is for consumers, and we've heard from Exradia's Jim Lawler, who thinks the industry should be leading the way in addressing Wi-Fi fears.
Tonight's Panorama is sure to have much of the consumer tech industry glued to their TVs, to evaluate the BBC's evidence about the potential health risks of Wi-Fi networks. My column earlier on today looked at the issue from a concerned new parent's point of view, but I've also been finding out what industry figures think.