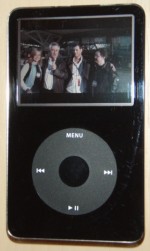 Ridley Scott has spoken out against the technology which allows films to be watched on mobile devices and computer screens.
Speaking at the Venice Film Festival, he said that, while many aspects of new technology were "wonderful", directors were "fighting technology".
"We try to do films which are in support of cinema, in a large room with good sound and a big picture," he said.
He wasn't entirely clear what types of technology were killing cinema, but presumably he's not a fan of the way films look in anything but the original format. That's not a new problem for filmmakers.