The Blu-ray disc association have settled on the codec it's going to use to display 3D Blu-ray, and with it comes great news for PS3 owners. The codec agreed upon will be Multiview Video Coding, which will only need 50%…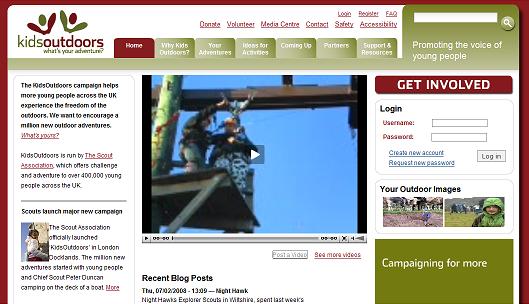 After discovering through the largest survey so far that children and teens are spending less time than ever outdoors, the Scout Association has brushed up on their web design skills and launched their Kids Outdoors Campaign today, complete with spiffy web 2.0 flourishes.
They've got videos! That you can upload and share yourself! Share your photos of your kids getting sporty! They've got blog posts! They've got a tag cloud! They've even got a little log-in section on the top right-hand side, so you know they know you know they know their stuff! It's just a shame about the poo-green colour scheme.
Their aim is to raise £10million…
The Sony PR machine is in overdrive at the moment, with them churning out more facts and figures about Blu-ray sales, than playable games on their PS3 console.
The Blu-ray Disc Association in Europe has let information leak about the one million Blu-ray movie discs they've sold, which according to them is 73% of all HD films sold. Bad news for HD DVD, if those figures are accurate. Of course, it was only last week we heard from the HD DVD camp that HD DVD player owners…