CES 2009: Images, details and generally more from Asus
Share
Since the flurry of high speed information at today's Asus press conference, we've gathered some further intelligence on what exactly what the netbook makers announced earlier today.
Asus Eee PC S121
The S121 is pretty much a straight upgrade of the Eee PC S101. It carries the same champagne (brown and shiny) finish as the 101 but this time the 12.1″ chassis a 1.33GHz Intel Atom Z520 CPU, up to 2GB of RAM, an 8 hour battery life but, most notably, a big old 512GB SSD. Technically not a netbook if you ask me but still nice and light at 1.45kg.
Asus Eee PC T91
The T91 is an 8.9″ netbook for those who like swivel screens. Why do people like swivel screens? Is it so hard to turn a 1kg latptop? All the same, swivel the T91 does as well as support GPS, a touch screen and an TV tuner.
Keyboard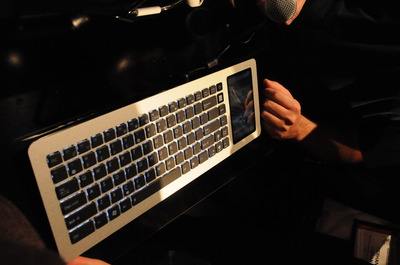 The keyboard is more a media centre than anything else with a 5″ touch screen LCD attached to prove it, It synchs up with just about anything else you have at home with an electrical pulse.
Asus N20
This is the 12″ laptop that comes with two screens. One in the normal place and the other where the trackpad should be. It has a 12 hour battery life, features multi-touchscreen input and is apparently a good example of why two screens are better than one.
Concept
This unnamed concept has taken web 2.0's idea of sharing just a little too far if you ask me. It folds entirely flat and allows two users simultaneous access and operation. Looks great but seems like a terrible idea.
Look here for more CES 2009 coverage.
Related posts: Asus press conference liveblog | No solder hack for the 700 and 701
For latest tech stories go to TechDigest.tv