Obama goes for in-game advertising
Share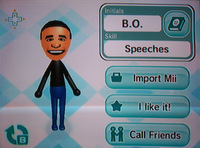 American Presidential candidate Barack Obama's success is in large part due to his mobilising of the youth vote – they think he's great. In a bid to push them even harder, to the point of actually voting for him, his campaign has struck a deal with EA to advertise in nine of their best selling games. Interestingly, this isn't the first time games have been used for advertising in political campaigns – Obama's Republican rival, John McCain, pioneered this form of advertising during his run for the sentate in 1896, advertising on the original version of Jumanji.
Obama's ads, which are dynamically inserted into the games over the internet using relatively new in-game advertising techniques, appear in EA's lucrative simulation of the world's most bewildering sport, American Football, Madden '09, and dangerous driving simulator Burnout: Paradise. So far there are no reports of Obama adverts appearing in EA's Extreme Helicopter Bear Hunting.
Mercifully, it looks as though the adverts are only appearing where you'd expect adverts to appear in games – on billboards around the pitch, for instance, rather than have the characters break the fourth wall and urging players to vote for change they can believe in.
There's no word on how the McCain camp will respond to these latest moves as they struggle to match Obama's ad-spending. Rumours of a John McCain themed expansion to EA's phenomenally popular The Sims have already been debunked, as it emerged that McCain has too many houses to fit on one disc.
Will this work though? If Obama wants to win, he's going to need to motivate the apathetic yoofs to switch off their Xboxes and get down to the polling station on November 4th… so I guess we'll find out then.
(via Obama video-games spending)
Related Posts: Digg Obama | Sarah Palin's e-mails hacked, TD writer winds up some Americans in the comments
For latest tech stories go to TechDigest.tv