CES 2007: Philips reveals UJoy gaming projector
Share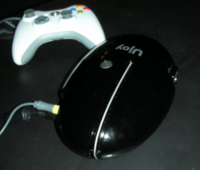 While not quite in the same category of quirkiness as the Guildhall concept projectors, this is still some unique looking kit. Again aimed at the gaming market (did the 360 controller give that away?) the Philips UJoy also acknowledges that once we've blown our hard earned cash on an Xbox, a PS3 and a Wii, we're not going to be in the market for an expensive projector.
For that reason, the UJoy uses a 50w bulb – much lower wattage than most other projector bulb – which means it won't burn up in 200 hours (which would only be what? a couple of Oblivion marathons, maybe). The low watt bulb should also be cheaper to buy too.
It is SVGA, which might be a little too limited for some those decadent 1080p features on modern consoles, and the contrast ratio of 1500:1 and lumens of 250 ain't wonderful either. Still, if it's cheap enough it might work out.
For latest tech stories go to TechDigest.tv