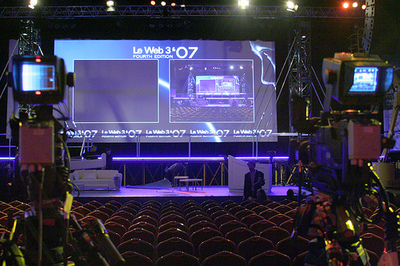 If you have been lurking about on Techdigest in the last week or so you'll know that a few of us have been in Paris at the Le Web 3.0 show. It is the one time of the year when a small part of the French capital morphs into a mini Silicon Valley with lots of entrepreneurs, VCs, web gurus, bloggers and assorted hangers on listening to key note speeches from internet superstars and networking like crazy over radioactive coffee.
Of course it was great fun, but did we learn anything? Well none of the team left Paris feeling like they knew where the web, media or anything else for that matter was really going. Nevertheless though here are a few things that picked up at Le Web 3.0
1 Brits aren't that interested in web 2.0 – Sure London finest internet companies turned up for the show, but you know what, Joost, Last FM, Webjam, Trusted Places aren't actually run by Brits. Even at the Start Up competition the entrepreneurs were much more likely to come from Eastern Europe, Italy or Scandinavia than they were to come from the UK. Also notably absent was the UK media. Good to see the Guardian and the BBC reporting from the exhibition as well as the TechCrunch UK crew, but that was about it.

Continue reading