Italian high-end projector manufacturer SIM2 has announced what is probably its most advanced, sleekest-looking high definition cinema projector to date.
The C3X LUMIS HOST builds on the standards set with the Grand Cinema C3X Series, boasting an amazing 35,000:1+ contrast ratio, dynamic iris, DynamicBlack technology and a new "dimmable" lamp…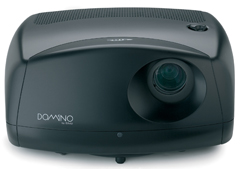 Back in November of last year, SIM2 launched the Domino D80 projector, which was actually quite affordable for the amount of performance sitting prettily away in the chassis, waiting anxiously for the next HD DVD to wow you with.
Just in time for Christmas, the company's given us a brilliant present, updating the D80 and lowering the price by several thousand pounds. The new…

Trust SIM2 to roll out yet another gorgeous looking projector to join their bevy of beauties, if they keep this up, they'll have a harem soon enough. Mmm, a harem of glossy 3-chip DLP projectors – don't get too excited, boys.
The Grand Cinema C3X 1080 not only looks good enough to cuddle for a good few hours, but performs with the excellence SIM2 have been known for for many years now. As you'd expect, it's a 3-chip DLP-touting device, which has the pleasure…

Better add this to your wish list, unless Roman Abramovich is reading Tech Digest again, in which case I'm willing to bet he's got one of these SIM2 projectors in every room.
Rolling in at a cost of a mere £9,999 each, the HT3000E delivers 1080p resolution, renders one billion colours and can project up to 30ft. It's apparently the only 'full' hi-def projector which offers that BrilliantColor…
HDTVUK got a morning of high definition film fun at the British Film Institute as they watched a demo of the very impressive SIM2 full HD video projector, the world's first 1080p, 3-chip DLP projector. The HT5000 has been…