Spotify have today rolled out a major update to their music streaming service, which sees it thoroughly integrate with Facebook, allowing you to easily share tracks and playlists with your pals. A quick set-up wizard connects your Facebook profile…
We've seen deadly iPod accessories before, but this is the first iPod accessory I've seen for killing people that aren't you. It's a handy iPod Touch mount for your sniper rifle. What do you mean you don't have a sniper rifle?
On the App Store, there's some matching ballistics software, called Bullet Flight. Though if you live in Washington DC, I wouldn't recommend buying it until tomorrow, unless you want a visit from the FBI. You can choose to correct for distance, wind direction, elevation and temperature. No coriolis effect, sadly.
In the meantime, it gets boring on a rooftop for hours on end – so what would be on a sniper's playlist? I've started making a Spotify playlist here. Let me know your suggestions in the comments.
(via the Firearm Blog)
Related posts: iPod headphones a possible KISS OF DEATH for users with pacemakers | DEADLY GADGETS: Foot massager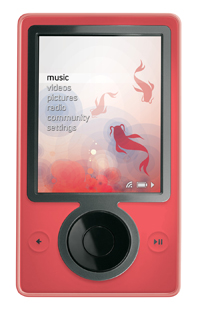 Despite shifting more than a million units of its first-generation Zune player, Microsoft is constantly fending off accusations that the device has been a flop. However, with Zune 2.0 on the horizon, some genuinely groundbreaking new features might help it turn the corner.
Check this patent out. It was filed by Microsoft last year, and describes two features that could make Zune a contender. First: a system to analyse your music listening habits, and push new stuff down to your Zune (with permission, obviously).