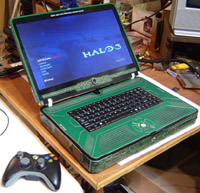 You may well have heard of Ben Heck before – he's regularly the source of amusement and amazement for gamers across the world, thanks to his love of ripping apart games consoles and rebuilding them in exciting new formats.
Like that thing to the left there. It's a standard Elite Xbox 360, only transformer-ised into a green laptop, complete with HD LCD screen and keyboard for chatting with fellow clan members about which Halo map you're going to play tonight…

It's a good time for moddin' fans alike, as the spec'd-up PC cases are rolling out faster than the creators' thumbs in a Halo sesh during their slacktime. The big blockbuster films are being represented left, right and centre, and this week it's the Tumbler Batmobile which has found its way onto teh intertubes…
Modders have been lifting their game recently – the past week has shown a NES emulator on the iPhone, a 360 mod which allowed the Wiimote to be used when playing Halo 2, and of course the Optimus Prime Transformers PC case mod which pleased me to the point of almost commissioning someone to create one for me. Oh, ok, a Megatron PC case mod, but still….