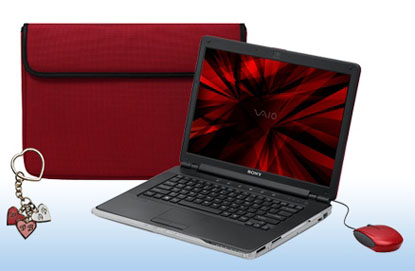 This happens but once a year, where companies feel compelled to spray-paint their products an embarrassing shade of red or pink in the hopes some daft fool will be forced to buy it at 5.42pm on the 14th of February, because Godiva and Charbonnel et Walker have run out of chocolates.
Here's my top five pick of what not to buy someone for Valentine's Day tomorrow. Not a single one. No-one. Just don't do it. Get them some tins of Green Giant niblets instead.
1.) Sony VAIO CR notebook – an expensive present for your loved one, this red-painted laptop will set you back $1,000, however you can be safe in the knowledge your partner will slap you for insulting him/her with a red matching cover and heart-shaped key chain. What? You think they actually like Sony VAIOs?!….