Not sure how many launches digital terrestrial TV service YouView has had now, but at the latest 'official' launch we were treated to national treasure Joanna Lumley appearing to beat the hell out of the original Austin 1300 car used…
The curmudgeonly Lou Reed Walked On The Wild Side yesterday at the Texas SXSW conference about digital music, shocking no-one with his audiophilic opinions about how "technology is making things worse". We always knew he was a moaner.
He went on, telling the audience of tech-savvy hanger-ons that "if you are one of those people like me who like 'good sound,' you need good speakers, a good stereo, and (as an artist) your price of recording goes up, because you need a good mic, good cables…If you don't like good sound, go with MP3." Ouch, Lou, you really do have a Rock And Roll Heart, eh?
According to Lou, "people have…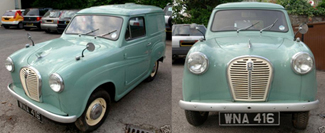 Nick Park, the Wallace and Gromit creator, isn't just a dab hand with the animation clay, as he's just shown off his ultra-generous side by selling the van which inspired the car in The Curse of the Were-Rabbit on eBay, for charity.
He's supporting the Wallace & Gromit Children's Foundation which helps children's hospitals and hospices within…