Review: Smart e-bike (£2495)
Share
Type: Electric bike
Specifications: Click here for full specs
Price as reviewed: £2495

I love cycling, but living in a particularly hilly part of North London I'm not really inclined to take the bike out on long rides, unless I wanted to attend meetings in a big sweaty heap. So the idea of getting an electric bike or Pedelec (Pedal Electric Cycle) does appeal.
Back in April I reported on a new range of electric bikes from German firm A2B including a very retro looking number called the Galvani (see my review here). Very different, however, is this new electric bike from car manufacturer Smart. Developed and built in conjunction with electric bike experts GRACE, it looks like a bike for the iPhone generation, similar at first glance to the original Go Cycle, but much, much sturdier.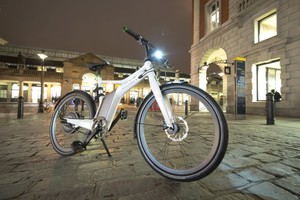 Indeed, the first thing you notice about this bike is its weight. Tipping the scales at 26.1Kg (57.5lbs) it really is a big beast, much heavier than a conventional mountain bike, let alone road bike. This is largely down to the whopping 423 Wh Lithium Ion battery which, the manufacturer claims, can deliver a range of up to 62 miles on a single charge
Smart and stylish
Styling, as you might expect from a brand like Smart, is exceptional. There's a comfortable green and white coloured leather saddle and the battery – though heavy – is discreetly located within the framework and can easily be removed for charging.
Key to the bike's control is the console panel that sits in the centre of the bike between the handlebars. This displays information about the bike's speed, distance travelled and whether the bike is in Power Assist or Generator mode (more of this later). When the console is switched on the headlamp and the tail lamp also both switch on (reflective strips on the sides of the tyres are also provided for safety).
Optional extras includes a smartphone cradle and a luggage carrier to fit on the back though neither was included on my review sample.
A beautiful green bell is included on the left handlebar though to be honest I was expecting something a little more hi-tech. On the right handlebar sits the gear lever (just three gears are provided) and the all important +/- buttons which can be used to control how much power assist you need (this toggles between minus three and plus three).
Originally this adjustable assistance handle sat in the middle of the bike, but Smart has now moved this to the right to provide greater stability. It also makes more sense to have it next to the gears as the two functions are complementary. Rather than a standard bike chain, the Smart has a carbon drive belt which is much more reliable.
Got the power
Apart from the fact that it's extremely heavy the Smart e-bike can be ridden as an ordinary bike. However, that's really no fun. The best bit about the e-bike is using the Power Assist function by pressing the +/- buttons on the handlebar.
As the Smart is a Pedelec it works by providing assistance only when you exert pressure on the pedals – a bit like being shoved in the back to get you going. Stop pedalling and the pedal assist will stop too. Three levels of power assist are provided though generally you only need the highest level when you are cycling up a really steep hill.
I found most of the time level one was enough, though I sometimes used level 2 to get a bit of acceleration – it's particularly handy when you are stuck in traffic. Maximum speed with pedal assist is 25Km/h (15.5 miles per hour) though without Pedal Assist you can cycle as fast as you like – within the speed limits of course.
Alternatively, for those feeling particularly fit (or just riding down hill) it's also possible to ride the bike in 'generator' mode, effectively putting charge back into the battery. Because the bike has regenerative brakes the electric motor also acts as a generator when the brakes are applied.
Would I buy one?
For wealthy brand-conscious eco-warriors who like the idea of cycling, but don't like the idea of hills, then the Smart e-bike possibly fits the bill. It looks great and rides well. Certainly it was a talking point among my cycling friends and everyone was keen to have a go.
It's just I can' t really see who is going to spend nearly £2.5K on an electric bike, especially when you consider that you could probably pick up a decent scooter for this sort of price and a fairly good road bike for half the price.
Obviously at the moment the product isn't intended to be a mass-market proposition, but I think to really catch on even among the wealthy commuters it's aimed at I think it needs to be come down in price to at least £1500.

Verdict:
Nice idea. Superbly styled, well made and has some nice features. But really who is going to spend £2500 on an electric bike? Also I'm not sure I would leave it even locked up in a bike rack as I'd be just too worried that someone was going to steal it! Let's hope the price comes down soon because I really like it, just not at this price.
3/5
For latest tech stories go to TechDigest.tv