Pokemon meets Google Maps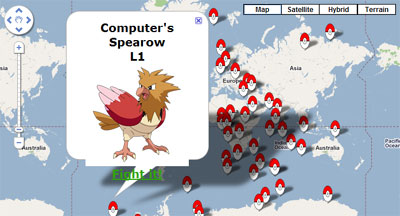 The most frustrating thing about being a Nintendo fan is seeing
their amazing characters and intellectual properties stuck on formats that not
many people own. Why can't they do the sensible thing and make Mario games
for iPhone? Or better still - what about a Pokemon game for iPhone?

It could have asynchronous battling and trading with your friends over the internet
(like with Words with Friends, etc), and how about making it augmented reality?
In the Pokemon games you have to go to certain towns to capture certain monsters…
but what if you had to physically travel via GPS? What if in a locality - say, London
- you had to go to King's Cross to catch a Kingler or Chancery Lane to capture a
Chansey? How awesome would that be?
Share
What if Batman fought Spider-Man? What if Harry Potter met Gandalf? Seldom do we get to see the characters we like meet others from another universe – unless it's Super Smash Bros, of course. But what about the rest of the media? Here's ten other gaming mash-ups we'd like to see.
CHECK OUT OUR LATEST 360 VIDEO WITH THE KODAK PIXPRO BELOW