Share
Name: HTC One X
Type: Android Smartphone

Specifications: Click here for full specs
Price as reviewed: £29 a month (with £29 upfront cost) from Three

HTC have promised a "quality over quantity" approach to their Android smartphone line-up this year, and the HTC One X represents the pick of their pile. Have HTC made good on the claim, and can the HTC One X do enough to fend off stiff competition from the upcoming Samsung Galaxy S3 and iPhone 5? Read on to find out!
Design
The HTC One X continues in the fine design tradition that HTC established once they'd purchased sharp design firm One & Co. Whether in black or white, the unibody build here is a corker, if perhaps a little big for some tastes.
Measuring up at 134.36 x 69.9 x 8.9 mm and weighing 130 grams, the slightly-curved handset may be a stretch to use for those with smaller hands. But once you set eyes on the One X's gigantic screen, you'll agree it's a fair trade. A 4.7 inch 720p HD resolution display, using Super IPS LCD 2 technology, dominates the front of the smartphone, with vivid, lifelike colours and a pixel density that's a pin-sharp rival for Apple's iPhone and iPad Retina displays.
Around the edges it's a fairly sparse list of buttons and features, and all the better for it in our opinion. The front lower edge of the screen houses three touch-sensitive buttons (something we're still keen on over the Galaxy Nexus's context-sensitive software buttons), while a 1.3MP camera with 720p video calling sits at the top end of the front. A volume rocker sits on the right hand edge, with a power button and 3.5mm headphone jack on the top edge. On the left is a microUSB slot which also acts as a Mobile High-Definition Link to hook up to a HDTV. The One X has had its looks previously described as "minimalist", and we'd agree with that observation.
Flip the phone over and you'll find an 8MP camera, which protrudes a fair bit from the back. It's not too much of an issue though, as the curved design of the phone helps hide the bulge somewhat. You'll also find the microSIM slot on the rear of the phone, which will cause annoyance thanks to needing a small key to access, as well as being a pain in the neck for those upgrading from a regular SIM size. It's part and parcel though of keeping the device a trim 8.9mm thick we suppose.
Under the hood, specs are impressive. A quad-core NVIDIA Tegra 3 processor, clocked at 1.5GHz, means that even console-bothering 3D games will play smoothly, as well as high def video files. 1GB of RAM is a fair amount too, and you're unlikely to experience too much bottlenecking while multitasking with the One X.
As well as standard connectivity options like Wi-Fi and 3G, you'll also find Bluetooth 4.0 and NFC technology tucked away in here. While neither are very useful right now (Bluetooth 4.0 accessories are just coming to market, while the NFC usage is limited to just Android Beam at the moment on the One X), it's some solid future-proofing by HTC. Sadly though, there's no expandable memory over microSD. The built-in 32GB of storage is acceptable, but not expansive.
In terms of battery life, the HTC One X houses an 1800mAh battery. With that stonking screen and the NVIDIA Tegra 3 processor running at full pelt, you're unlikely to get a full 9-to-5 working day's use out of the battery. This is with Wi-Fi and 3G connectivity both on, the screen at maximum brightness, and a few calls and gaming app sessions thrown in. However, a solid low-battery management system means that when the juice is running low, you'll likely be able to keep the device ticking over until you're back within reach of a charger. Standby battery drain is solid too, meaning you'll likely get two whole days with the screen off before the device conks out entirely. Those looking to get intensive use out of the HTC One X will find their hopes further hindered by a sealed battery compartment; they'll be no battery pack hot-swapping halfway through the day with this one.


Interface and apps
The HTC One X fuses the stock Android 4.0 Ice Cream Sandwich OS from Google with the company's much-loved and ever-evolving HTC Sense UI, this time being version 4.0. It's a snazzy re-skinning of Android, that uses 3D designs and a rotating set of seven homescreens to house your most used widgets and apps.
While regular Sense features like the exploded "helicopter" view of homescreens (accessed with a pinch on any of the 7 main screens) returns, Sense 4.0 also tweaks some interface elements. For instance, settings are now accessed from the drag-down notifications bar instead of having a dedicated key, while notifications themselves are larger and can be individually swiped away. The apps menu now scrolls left to right rather than vertically, and the lock screen now lets you drag and unlock notifications and messages as well as quick-launching apps like the phone dialler and camera.
Slightly less successful is the dedicated multi-tasking key, which throws up a 3D scrolling list of apps currently in use. Though pretty, it's the one notable culprit for causing lag on the device; with multi-tasking likely the time you're trying to avoid time wasting the most, it can be really irritating. Overall though Sense 4.0 is a great success and, as with any version of Android, can be easily customised to your liking by long-pressing and dragging about onscreen elements.
In terms of pre-installed apps, the HTC One X has a fine array popped in to get you started. As well as all the standard Google products (and the Google Play store for grabbing more apps), Facebook and Twitter, you get a premium version of Dropbox for cloud-syncing a giant 25GB of files and media, the superb Evernote note taking app that syncs images, text, audio and web clippings across all your Evernote-using devices, and HTC's own Note app that ties your scribbles and audio notes to appointment and calendar details. We're less keen on 7Digital as the default MP3 store, and the Movie Editor is cumbersome, but on the whole it's a strong offering.
Web browsing is mostly excellent too. While page rendering speeds are surprisingly slow considering the quad-core processor onboard, navigation and legibility are superb. The screen comes into its own when displaying image-heavy sites, and you'll happily be able to browse with the One X at length. HTC still does the best text-reflowing on mobiles, and you'll be able to zoom into a size tailored for you and see text intelligently shuffle into a readable column. A new "Reader" function, pulling out the text and key images away from the advertising and formatting chaff of websites also helps deliver a great browsing experience. Flash is onboard too, meaning that any websites using the divisive format will be displayed in full.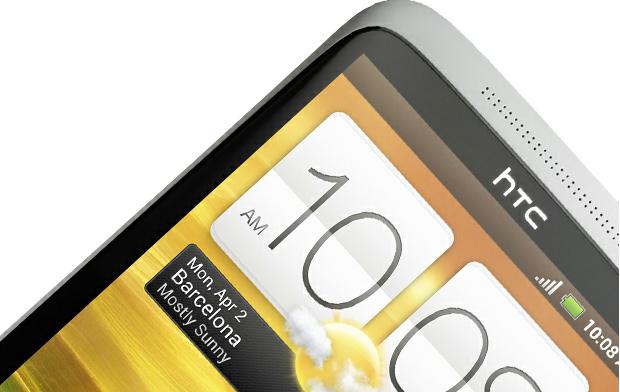 Calling and Messaging
Contacts integration is as strong as ever from HTC with the One X. Long have HTC been way ahead of the curve when it comes to tying in social networking pals to the address book, and HTC have fine tuned the system once again. Quickly populating the address book with details and images from your Facebook and Twitter pals, you'll instantly have all the contact information you need once you've signed into the big two social networking sites for the first time. Large contact photos make browsing the book easy too, with images prioritised automatically from the ones your contacts pick as their Facebook profile snaps.
From a contact's listing you can quickly send SMS messages, social networking updates and emails, as well as making calls, as well as offering the option to consolidate contacts that are doubled due to conflicting listings (handy for when your pals use silly Twitter handles that don't match up with their real-world personas). From the contact's listing you can see messages sent by them to you too. You can even group together contacts for quick group messages, making a widget of the gang for easy access from a homescreen. It's all intuitive and highly flexible.
Calling is well delivered too. A Smart Dialler lets you search for a contact through the dialler with both letters and numbers, and overall call quality was excellent, with a smart noise cancelling system really making a significant difference. There were a few signalling issues, but overall it's a very reliable blower.
HTC's email client is well designed too. While you get the superb stock Gmail app as part of Android (synced along with webmail and exchange accounts upon the device's initial set-up), HTC's offers threaded messages, flagged messaging and also smartly identifies web links and phone numbers. Whether you're using email, webmail, SMS, MMS, Google Talk or an IM+ app, the software QWERTY on here delivers a comfortable tap-typing experience. HTC have built a really nice sized keyboard, and when paired with a clever predictive text system, you'll quickly be tapping out lengthy messages without any fuss.


Media playback
If you intend to use the HTC One X as your primary music-playing device, you're in for a treat. Not only do you get Beats Audio sonic enhancements to practically every major music playing app on the Android market, but you've also got a really nifty stock Music Player from HTC. As well as being very visual, with high-resolution artwork supported as well as homescreen widgets, it has masterful integration with the SoundHound app, putting artist information such as lyrics, bio and gig listings just a tap away while listening to tracks. AAC, AMR, OGG, M4A, MID, MP3, WAV and WMA formats are all supported. There's an FM radio built in too once you're sick of your own catalogue of tunes.
It's a shame the video library isn't presented as nicely. Bunged into the Gallery app along with your photos, the only cataloguing system offered is for those that can be bothered to pop videos into folders. Otherwise, you simply get a collage of small thumbnails of videos with no descriptive data to work with. If you've got, say, a series of TV shows that all open in the same way, you'll find it tough to differentiate between them. Grab a third party app for this functionality as soon as you fire up the phone if you decide to grab one.
Actually watching videos is much better though, with crisp, high definition video delivered without a stutter. Pushing content to a big screen is easy too thanks to DLNA compatibility, but you may struggle when playing certain file types. MP4 and 3GP files play without a hitch, but we could rarely find AVI's that work, a pity considering they're among the most commonly downloaded.
Gaming, somewhat surprisingly, may prove one of the biggest draws to the HTC One X. The NVIDIA Tegra 3 processor, when paired with Tegra-optimised games, delivers some of the best handheld gaming currently on the market, iPhone-be-damned. Jet Ski game RipTide for instance looked phenomenal, with nifty water effects and wave-bobbing physics. Gaming of this intensity will be a big drain on the battery, but it's great while it lasts.
Of course, when it comes to media and gaming, a large drawback of the HTC One X will be the lack of expandable storage. 32GB is a fair amount, but once you're drawn into what the phone can pull off with HD video and 3D gaming, you're going to see that space fill up very quickly indeed.


Still Camera and Video
HTC have made some great strides with the rear stills camera on the One X compared to their previous efforts. An 8MP snapper with LED flash, it's pairing enhanced optics with the souped-up NVIDIA processor to great effect.
Firstly, there's the cracking shutter speed. The One X can take as many as 10 shots per second, with often excellent results. Dial the option back a bit to the standard capture speed and you're looking at around three seconds between photos; not class-leading, but hardly a bad mark against the phone's name. There's no dedicated shutter hardware button, but when paired with the lock-screen camera launch ability, we think you'll hardly miss a key moment as a result of its absence.
Secondly, there's plenty of scene selection options and filters. From bold, colourful options to more tasteful, muted reworkings of your images, there is plenty to play about with. High Dynamic Range mode, while tending to blur more than Apple's offering does, tends to work well too, evening out contrast levels based on optimal lighting in an image. You've got a reliable Macro mode and an easy-to-use Panorama mode (with onscreen instructions) on offer here too.
Lastly, you're given a wide range of image settings to play with, giving you control over saturation, sharpness, exposure settings and more. It's a comprehensive camera delivered by HTC here, and one that will please those looking to flog their aging compact camera on eBay.
Video recording (at a maximum of 1080p Full HD resolution) offered just as impressive an amount of options. You can shoot slow motion video, take photos while recording HD video at 30fps, and even capture stills from a video you've shot and are playing back at a later date. Videos shot on the camera look great when played back on the phone's own screen, but the results are a little patchy when blown up to a big screen, with a slight grain covering captured video and lacklustre audio clarity captured by the dual microphones.

Verdict:
The HTC One X is the best phone HTC have put out in years. Beautifully designed and powerful to boot, it has an intuitive, attractive interface, and one of the best still camera systems money can buy inside a smartphone. However, a few failings (namely battery life, video capture quality and the way HTC have presented the video library) drag things down a little. It's still probably the best smartphone on the market right now, but with the Galaxy S3 hitting stores in just a matter of days, and a new iPhone expected before the year is out, we wonder how long it can hold onto that lofty title.
5/5
For latest tech stories go to TechDigest.tv