Steve Jobs RIP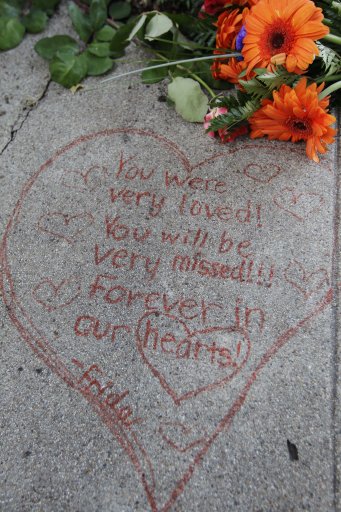 A message is displayed in front of Steve Jobs' home in Palo Alto, Calif.,
Wednesday, Oct. 5, 2011. Jobs, the Apple founder and former CEO who
invented and masterfully marketed ever-sleeker gadgets that transformed
everyday technology, from the personal computer to the iPod and iPhone,
has died. He was 56.
Share

Steve Jobs, the co-founder of Apple and long time leader of the company has passed away, aged 56.
Apple paid tribute to the visionary Jobs with a full letter now showing on the landing page of Apple.com:
"Apple has lost a visionary and creative genius, and the world has lost an amazing human being. Those of us who have been fortunate enough to know and work with Steve have lost a dear friend and an inspiring mentor. Steve leaves behind a company that only he could have built, and his spirit will forever be the foundation of Apple."
Apple have asked that those wishing to pass on their condolences do so at the email address remembersteve@apple.com.
Incredibly sad news to hear of the passing of man who touched so many lives in such a profound way with his work and innovations.
We'll have more news on this later on, but for now our sincere thoughts and condolences are with the Jobs family, his friends and his colleagues.
Related stories:
VIDEO: Steve Jobs Story – When the Apple maestro met Buzz and
www.techdigest.tv/2011/08/video_steve_job_4.html
Steve Jobs steps down as Apple CEO : Tech Digest
www.techdigest.tv/2011/08/steve_jobs_step_1.html
Steve Jobs cancer fears grow as no Obama meeting pics emerge …
www.techdigest.tv/2011/02/steve_jobs_canc.html
Steve Jobs defies health rumours, returns to stage for Apple iPad 2 …
www.techdigest.tv/2011/03/steve_jobs_defi.html
Steve Jobs comic book biography in the works : Tech Digest
www.techdigest.tv/2011/06/steve_jobs_comi.html
iSteve: The Book of Jobs – Steve Jobs' official biography set for next …
www.techdigest.tv/2011/04/isteve_the_book.html
Steve Jobs' resignation letter in full
//www.techdigest.tv/2011/08/steve_jobss_res.html