Motorola Xoom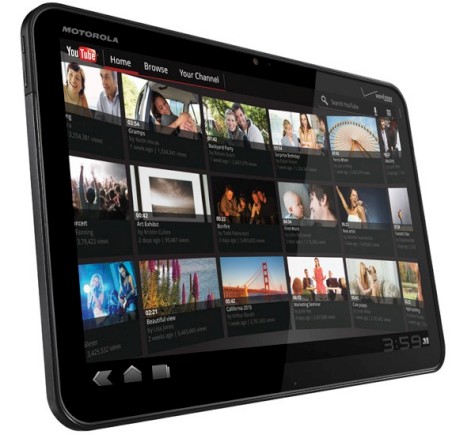 First up is the Motorola Xoom, which has a mighty spec sheet that
could send the iPad 2 packing if paired with the right apps. A super-fast
1GHz dual-core processor pretty much matches the iPad 2's 1.2GHz dual-core
offering, as does upgradeable connectivity to the 4G LTE network. Flash
too is supported through Android Honeycomb, Google's
made-for-tablets OS.


Just like the iPad 2, the Xoom features front and rear cameras,
capable of 720p HD recording, though the Xoom again wins
out with 5 MP still imaging (the iPad 2 manages less than 1MP).


However, a dearth of Android 3.0 apps, with few mobile apps optimised for
Honeycomb, means the iPad 2 is vastly superior in the software stakes. And
in pricing too; iPad 2's start at $499, the
Xoom only comes in one $799 flavour.
Share

2010 may have made the word "tablet" a household computing term, but 2011is the year the tablet wars will really get interesting. Apple have now revealed the iPad 2 and it again is set to sell like hotcakes, but keep in mind there was barely any competition last year when the first iteration was revealed. Now, with the release of Google's tablet-focussed Honeycomb Android OS, there are plenty of slates looking to take on the mighty iPad. From Motorola's Xoom to the 3D LG Optimus Pad, things are about to get truly interesting.
Jobs may have dismissed the competition as "copycats" at the iPad 2 launch on Wednesday, but that's not to say they don't all have a few of their own tricks up their sleeves to warrant your attention.
Here we take a look at the iPad 2's 5 biggest rivals.
Click below to get started