Mio Navman announces Spirit TV range
Share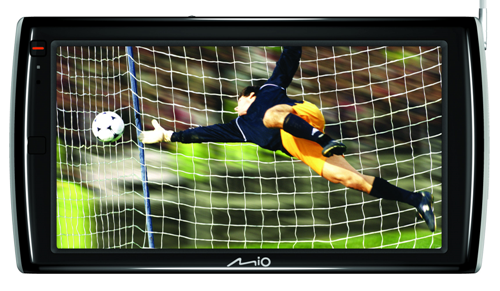 We gave you a sneak preview last month but now it's official. The first satnav with a built-in TV is here. Actually the first two satnavs with built in TV are here as there are two different sized versions – the Mio Navman V735 which has a huge 7-inch screen and its little brother, the V505 which has a 4.7-inch screen.
Apart from the unique TV function, there are plenty of other features to justify the price of £299 for the V735 and £229 for the V505.
Navigation-wise it's got everything you'd expect from the Mio Navman brand including TruMaps, smart economical routing, traffic data and safety camera data. There's also a nice walking navigation side to the device with built-in 2D city maps specially designed for pedestrians.
Like other Mio Navman devices it also includes the NavPix geo-tagged photo navigation feature. This feature, combined with the walking navigation maps will come into its own on city breaks.
But you're not really interested in all that are you? You just want to know about the TV aspect to the device. Well, it's pretty straight forward – it has a built-in DVT tuner that will work right across Europe. In the UK that means you could pick up the complete Freeview spectrum, signal permitting. There's a built-in aerial and there is also a socket to plug in a stronger aerial if required.
Obviously it's not designed to be used whilst driving – that would be very naughty.
Check out our preview video:
For under £300, these models have come in a bit cheaper than we expected. Get yours direct from Mio Navman.
For latest tech stories go to TechDigest.tv