CES 2009: Camcorders go solid state with the 64GB SSD Samsung HMX-H106
Share

Samsung has pulled another exclusive out the bag but for how long is another question. Among their fleet of camcorders just announced is the flagship Samsung HMX-H106 which is the first to feature a 64GB SSD, slightly depressingly giving it more storage than any hardware I own.
All this space means that you can record up to a staggering 12 hours of footage at maximum picture quality settings! The rest of the range H range is made up of the H105, H104 and the H100 with 32GB, 16GB and 0GB of solid state storage respectively. They also all have SD/SDHC card slots which is why the H100 isn't completelt useless.
Each has a 37mm wide-angle Varioplan HD lens made by Oscar winners Schneider Kreuznach which give you up to 10x zoom as well. So, you're not only getting A1 quality glassware but also the chance to fit your mates in shot without having to stand on the other side of the room. Very useful when recording first look videos at CES, but more of that tomorrow.
The imaging's taken care of by CMOS sensors capable of 2.2-megapixel yields and 4.7-megapixel stills photography. Incidentally, Samsung also announced the HMX-R10 camcorder today designed for stills photography of all things. No SSD to speak of and not as good as the H series but it does have a CMOS sensor capable of 9-megapixel shots. But that's by the by.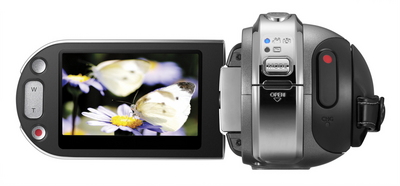 As for the H series, they come with a 2.7″ LCD touchscreen, they record full HD with H.264 compression and the idea behind the solid state storage is that they consume about an eighth of the power of HDD camcorders meaning that your battery lasts longer. HDMI ports are standard and they'll be out in March except for the H106 for which you'll have to wait until April.
In short, they sound ace and will likely require they sale of a kidney to afford.
For latest tech stories go to TechDigest.tv