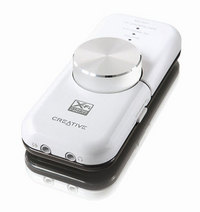 The propaganda
The Xmod is Creative's first external sound card to implement X-Fi technology. X-Fi has been securing Creative's leading position in the sound card market for a long time thanks to its excellent sound quality enhancing functions. The Xmod offers a similar feature set to full blown X-Fi cards, incorporating CMSS 3D and Crystalizer technologies to enhance the quality of your sound output in ways an internal sound card can only dream of.
The Xmod is a compact device that consists of one large multipurpose volume dial and a couple of 3.5mm outputs (for headphones and speakers), along with a 3.5mm input, which allows you to use the device as standalone sound enhancer. Xmod is also completely plug-and-play capable, which takes away all the hassle of installing software and fiddling around with settings.
THE BIG THREE Our guide to Microsoft's Surface Apple launches iTunes Plus DRM-free music downloads CBS buys Last.fm for $280 million THE NEXT FIFTEEN Video review: HTC S710 smartphone Sharp's awesome-looking Aquos 912SH mobile phone Homersapien finally arrives in the…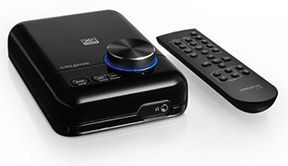 Creative has announced the availability of its Xmod Wireless music system that connects directly to a PC via USB and streams music wirelessly around the home using its Xtreme Fidelity quality-enhancing technology.
The Xmod Wireless connects to a PC and speaker system without the need to install drivers. The included X-Fi Wireless Receiver is then connected to a speaker system elsewhere in the home, up to 100 feet away, and can then be streamed between the two stations.