I can't say that a shag-proof phone is top of my agenda when looking for a new handset but then it's not designed for me as Samsung Mobile vice president for the UK and Ireland Mark Mitchinson described in the title. To be fair, it would apply to me if I were paintballing/at a music festival but I've promised never to do either again; too much blood and brain tissue lost.
The Samsung B2700 has got the specs of a reasonable to good handset with a 2-megapixel camera, 3G connectivity, an FM radio and MP3 player but it's the bonus features and layers of rubber and shock-proof urethane that give it the edge – that and the built-in torch, compass, pedometer…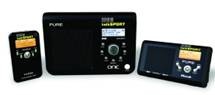 I'd be a huge DAB evangelist if I could actually receive it in my house, which seemingly sits within an ancient voodoo magnetic radiation zone in Bishops Stortford that blocks DAB, Freeview and mobile reception.