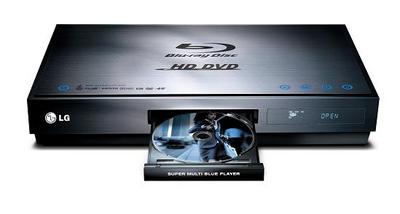 We got quite flustered over LG's BH100 Super Multi Blu player (pictured) when it was announced at CES this year, what with it offering a solution (a very expensive solution, admittedly) to the dilemma over whether to choose Blu-ray or HD DVD.
However, LG has just announced the follow-up BH200 product, which is due to go on sale next month in the US for around $1,000.
There's been something of a price war between rival HD DVD and Blu-ray player manufacturers of late, but until now, dual format players haven't followed suit.
LG has just announced that it's to cut the US price of its "Super Blu" BH100 dual format (HD DVD/Blu-ray) player by $200, from $1,199 down to $999.
This may be in response to Samsung's recent announcement of their BDP-UP5000 player, expected to retail for around $1,049.