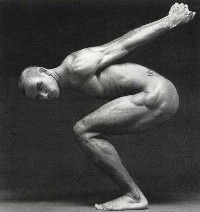 Beleaguered England coach Steve McLaren has hinted that David Beckham may be coming back to the squad.
McLaren's quoted as saying he's been "keeping an eye" on Beckham's "form" (and with pictures like that, who hasn't?). So how can our Dave ensure he's in McLaren's eyeline? By working the spotlight with an array of handy gadgets, of course.
Want to keep a closer eye on Beckham yourself? Then enter Lost Weekend's amazing Beckham competition.
Shiny Shiny's Susi and Abi feel the love for the Sony Walkman A805 2GB.