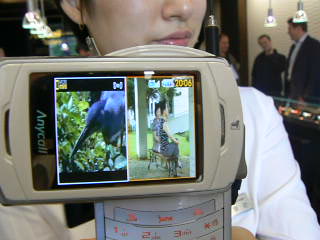 So, I'm here in Seoul being shown a taster of South Korea's most cutting-edge mobile technology. This morning, that included a wander around Samsung's Anycall Studio store, which acts as a showcase for the company's handsets.
Besides the neat touchscreen phone-recommender, there was plenty of other fun stuff to see. I've picked out ten highlights from the store, so read on below. Starting with…
1. Picture-in-Picture dual-DMB TV Phone (above). The SCH-B710, to give the handset its full name, is the first Korean phone to come with a pair of digital TV tuners in – one S-DMB (satellite) and one T-DMB (terrestrial). What's more, you can watch both simultaneously using its picture-in-picture mode, allowing you to watch a film and a football match at the same time.