Sony launched its PlayStation3 console in South Korea over the weekend, hoping that the land of lunatic ("100 hours or DEATH!") online RPG fans might take to its not-exactly-popular-anywhere-else new games system.
"Around 50" gamers queued for a PS3 in Seoul on launch morning, with Sony Asia boss …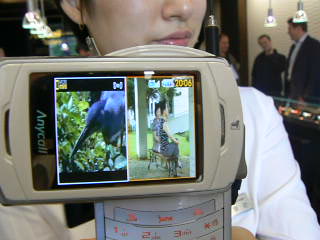 So, I'm here in Seoul being shown a taster of South Korea's most cutting-edge mobile technology. This morning, that included a wander around Samsung's Anycall Studio store, which acts as a showcase for the company's handsets.
Besides the neat touchscreen phone-recommender, there was plenty of other fun stuff to see. I've picked out ten highlights from the store, so read on below. Starting with…
1. Picture-in-Picture dual-DMB TV Phone (above). The SCH-B710, to give the handset its full name, is the first Korean phone to come with a pair of digital TV tuners in – one S-DMB (satellite) and one T-DMB (terrestrial). What's more, you can watch both simultaneously using its picture-in-picture mode, allowing you to watch a film and a football match at the same time.
How do you decide what new phone to buy? Well, it depends on whether you drink wine or beer. Whether you put your trousers or shirt on first in the morning. Whether you like handbags or console gaming.
A nifty touchscreen gadget in Samsung's Anycall Studio store in Seoul uses these questions to decide what phone you should buy. See how I fared in the video below (yes, I accidentally said I was a woman). It's hard to see this sort of tech appearing in Carphone Warehouse any time soon, but you never know…