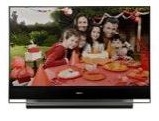 Sony has announced, by way of a spokesman, that once their current stock of rear projection TVs has gone, they'll abandon the RPTV market in favour of LCD screens. They believe that LCD flat panel TVs are "what people really want" — not withstanding the fact that some rear-projection TVs, including Sony's own — use LCD technology.
Perhaps the format is on the way out, despite still being popular, as Sony aren't the first manufacturer to shift focus away from the technology in favour of plasma and, particularly, LCD.
Our friends over at HDTV UK are doing a series to help you create the Ultimate High Definition Home Cinema Experience (er, in case the title of this post didn't give that away). The first part looks at the best way to start your HD experience – buying your first HDTV.