Tag:
one laptop per child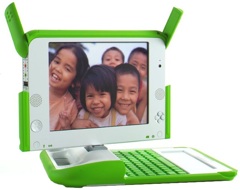 Intel yesterday announced that it had left the One Laptop Per Child (OLPC) project, run by MIT professor Nicholas Negroponte, because of a stipulation from the organisers that they support the project exclusively.
According to Intel, the OLPC board "asked Intel to end its support for non-OLPC platforms including the Classmate PC and other systems. They wanted us to focus our support exclusively on the OLPC system."
Intel are convinced (as I am) that there will be many solutions to getting affordable, accessible technology into the hands of people in developing countries. Perhaps the OLPC thought that Intel was some tinpot organisation who didn't have the resources to concentrate on more than one project at a time. For an open-source initiative, their stance seems a little peculiar.