There's a lot of people out there, myself included, eager for the N97, hoping it'll be a valid rival from Nokia to the omnipresent iPhone. Well, perhaps there isn't too long to wait after all, given that over the weekend, Play.com put up a pre-order page for Nokia's next flagship device. In fact, it's still up at the time of writing.
That page confidently claims that the N97 will arrive on the 31st March, and cost the princely sum of £480 sim- and contract-free, and unlocked. There's some specs too – I've listed them over the jump. Now… any advice on how to scrape together £480 by the end of March? Answers in the comments please.
Microsoft's been fiddling with the internal organs of its Xbox 360 again, with the long-rumoured "Jasper" hardware re-jig apparently rolling out across the world right now.
The new Xbox 360 – as found and disassembled by a user on Xbox-Scene – features a lower-Wattage PSU (150W instead of 175W) that'll keep Greenpeace happy when it does its next name & shame list.
But the most thrilling enhancement for you, humble end user, is the addition of 256MB of internal flash memory…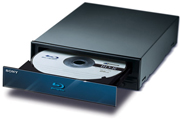 Yes, bit of a boring product here, obvious through it being shunted off to the left there, with the text wrapped around the image so firmly. Definitely one for the Blu-ray fanatics to ogle, whilst the rest of us can shake our heads disapprovingly, smug with our HD-DVD blankets around us.
Sony has updated their internal PC Blu-ray burner, with the BWU-200S writing up to 50GB in just 45 minutes. For the Sony fanboys who'll buy anything with a Sony badge slapped on it, but haven't yet made the move to the HD format, they'll be pleased to know it also writes to standard DVD…