Tag:
ikaraoke tuneprompter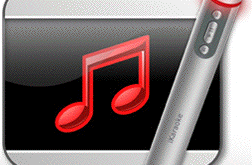 Griffin has announced its iKaraoke TunePrompter software, a free tool that lets you make karaoke videos from your existing music library. You do need to own the iKaraoke iPod gadget if you want to use the resulting video on your iPod, though the videos can also be used straight out of iTunes.
The software is easy to use: simply load up your favourite song, enter or find its lyrics, and then teach TunePrompter where those lyrics sit in the song by tapping the space bar along to the music.