Nintendo revealed today that over 10 million DS consoles have been sold in the UK so far. That staggering figure means one in six Brits now own a DS, and are happily catching Pokemon or training their brains. It makes…
Russian firm CBOSS makes convergent IT solutions for end-to-end automation of telecommunication enterprises. Its services include consulting, turnkey implementation and technical support, promising to guarantee mobile operators' operations quality while minimising operational and capital expenditures.
If you're struggling to get your head round that, don't worry: here's a video explaining the company's raison d'etre through the medium of interpretive dance. Sorry, they're fully dressed this year.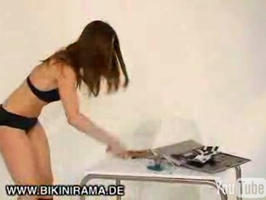 Hot girls. Bikinis. Smashing up Macbooks. Yep, life doesn't get much better than this. Certainly worthy of directing some attention towards YouTube, anyways…