img alt="ipodmashup.jpg" src="//www.techdigest.tv/ipodmashup.jpg" width="350″ height="215″ />
Well, if I were 'in' with Steve Jobs and his cronies, that'd be the case, anyway!
My more-than-slightly-dodgy Photoshop of the Beatles' Yellow Submarine iPod last week caused such a furore over the internets, with plenty of sites not only linking to our story, but also pinching the mock-up I created. It got to the point where when Gizmodo linked to us and originally included my 'mad Photoshop skillzorz', several readers complained about the quality of the pic, and their Photoshop da Vinci, Jesus Diaz, had to hurriedly create a new one to sate the Apple fanboys' appetite. I can just imagine the horrified looks on their faces as they realised someone had desecrated their beloved Jesus 'pod without actually having a graphic design degree. Gasp!
So I thought I'd throw a bit more bleach on your eyes with some more band-themed iPods Apple really should create. Stuff the Beatles' whole catalogue, who wants…Simply Red's? Apart from moi?…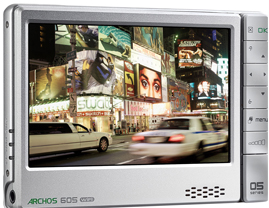 Archos has unveiled its new line of personal media players, dubbed Generation 5. It includes three new PMPs, the 405, 605 and 705, which for the first time will support Flash-based video from YouTube and other online video-sharing sites.