Controversial statement incoming; I think Fallout 3 is the best game of all time ever. That's coming from someone who, until Fallout 3's release, was adamant that his top spot would never have anything but Mario Kart on the…
Sittingbourne and Sheppey MP Derek Wyatt has become the first politician in the world to have his own iPhone app. The MyMP app aims to get younger people involved in politics by offering text and Twitter based discussions on local…

It's all well and good harping on constantly about the One Laptop Per Child scheme, but is it actually benefitting the children of Africa?
According to a chap on CNN the other day, out in Rwanda demonstrating the effects made on the kiddywinks, the….
They may've ceased trading in Japan, but Samsung's beefing up their UK presence, and have just opened their first high-street store here in London.
Up until now, they've only ever sold goods in other retailers, or online, but this just-opened store on Tottenham Court Road marks…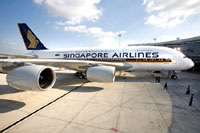 Singapore Airlines pulled off a next-gen aeroplane first yesterday, with the first ever commercial flight of the vast double decker Airbus A380. There wasn't even one fireball over the Indonesia as flight SQ380 successfully made it all the way from Singapore to Sydney in one very large piece.
"The flight was spectacular, just truly awesome," said Thomas Lee, one of the passengers – a man who's so into his planes he was also one of the first passengers on the inaugural 747 flight back in 1970…