Wasn't expecting this; the Entertainment Retailers Association (ERA) have released their figures for the gloomy recessionary year of 2009, and while many industries were hit hard by the economic downturn, VHS sales were up from 44,377 in 2008 to 95,201…
Well, this is a big waste of everyone's time. The Entertainment Retailers Association has launched a new logo that purports to indicate to consumers whether or not a store sells MP3s, as opposed to DRM-ed WMA files. They're calling it "MP3 Compatible".
To start with, 7Digital, Play.com, HMV and a few other download stores will use the logo on their sites, but the ERA are hoping that makers of digital music players will start using it too. Except they won't. Because almost every device that plays music already supports MP3, so it doesn't really need to be labelled…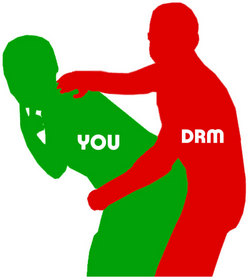 The UK's Entertainment Retailers Association (ERA) has praised Sony BMG's decision to abandon its opposition to DRM-free music, and allow online retailers to sell its tracks as MP3 files. The label said last week that it'd make more than three million tracks available without DRM – and was the last major label to hold out against ditching copy protection.