OK, so the USB missile launcher is very old news indeed, but hardcore fans (like me) will be delighted to discover that there's a new technologically more advanced version coming that is more powerful and is controlled via a…
Dream Cheeky has slipped us details of another upcoming USB gadget, following my earlier post on their Virtual Girlfriend and Boyfriend. This time, it's another level of ambitious USB gadgetry: the Desk Tidy Kit.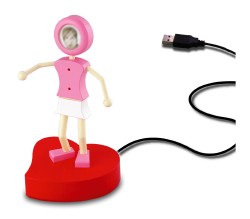 A lover that plugs into your computer's USB port? Unless it's a new way of powering the Rampant Rabbit, I can't see the idea catching on. But Hong Kong-based gadget firm Dream Cheeky are keen to prove me wrong, with their latest USB gizmos, the Virtual Girlfriend and Virtual Boyfriend.