This morning, while investigating a rather awesome-looking steampunk laptop stand, I came across the brilliance that is Thingiverse. It's a site that allows you to share your designs and plans for the building of real-world physical objects. The idea is that you can use digital cutters and fabricators to cut out the object relatively easily, and voila – a new.. er.. thing.
The best bit about Thingiverse is that it uses Creative Commons licenses, and encourages people to use them. Combined with a recently-added 'derivatives' function, it's incredibly easy to create designs based on other people's work, or improve existing objects. The steampunk laptop stand was a regular laptop stand before someone added the gear design.
Thingiverse is a great site if you're remotely interested in making things in the physical world. Although it's a little clunky at the egdes, there's tonnes of potential, especially as the tools for easily making the objects on the site become cheaper. If you've invented a revolutionary new coathanger, then head over to Thingiverse and tell people about it.
Thingiverse (via Likecool)
Related posts: Amazon launches brilliant "WindowShop" website | Where do I go out in the evening? – Top reviews, guides & listings websites
Via has decided to be friendly to anyone wanting to build an Eee PC clone (or just a sub-notebook PC) by making CAD files available to anyone who wants to build or modify the OpenBook.
Processor specs aren't amazing — the Via C7-M / VX800 digital media processors may well choke on Windows XP or Vista, although Via says that their next-generation processor – Isaiah – will run four times as fast…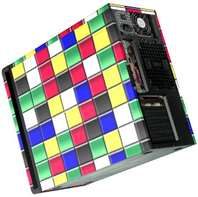 As all good things in history, the Rubik's Cube has seen a recent revival in the trend lists, and Commodore is certainly channelling the '70s throwback through their latest gaming PC.
It may appear a bit stupid, hulking away on your home desk like a giant Rubik's Cube-themed Autobot, but don't let your friends rip into you too much, as we all know Commodore PCs are high-powered monsters…