It's a Star Wars wedding. Not just a a cake grandma made that, from the right angle, looks a bit like a 2D Death Star, but a proper, CAN YOU BELIEVE THEY DID THAT? Star Wars wedding. Everyone put in some effort.
Here's a small celebratory montage we've put together of the finest photos. The highlight is the ginger man who grew his beard out to be Chewbacca, plus the grey-haired man who used his natural assets to do a superb Ben Kenobi. The X-Wings let the side down a bit, mind. What's with the socks?
The entire set is, incredibly, viewable by the general public over on Flickr. We wanted to poke fun, but… it's sensational…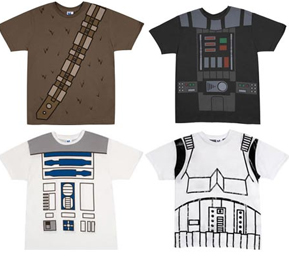 Hey, it's no Steve Jobs costume, but a costume tee decking you out Star Wars-stylee is *almost* as geektacular.
As anyone who's ever watched the films can tell (that'd be most of you, no?), there are four choices, Chewbacca,…
This video does exactly what it says on the tin. A hoover… that sounds like Chewbacca from Star Wars. Be warned, you may laugh yourself damp at this.