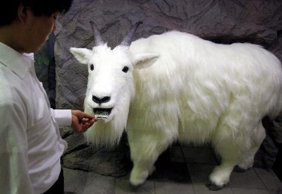 A robotic goat? Wow. Just wow. I thought that'd be the last animal I'd see roboticised, but it appears gamblers in Tokyo can even interact with one, after losing insane amounts of yen at the Edogawa Kyotei boat race course.
Punters are encouraged to mourn their losses by feeding their losing tickets to the robo-goat, to minimise littering…
If you've currently got that Spanish language bootleg copy of Transformers lined up for download on Bittorrent, you might be interested in this – a HUMMER that's been modified to tear up water.
The Humdinga is able to reach 40mph on water, thanks to its 350bhp engine that, when using its wheels on the ground…