It's only a prototype, but the new EADS Astrium design here is based on the existing unmanned Jules Verne pod already flying about up there, so it could easily take scientists and paying billionaires up into the ionosphere with a bit of tweaking.
Very handy if you've recently applied to be an astronaut or are just generally excited about space things…
From the age of six, I wanted to be a top tech blogger (obviously), but before that I had my sights set on space, and a career as an astronaut. However, here's some news that's reawakened those early ambitions: NASA is on the hunt for new astronauts, and the successful candidates could be walking on the Moon by 2020!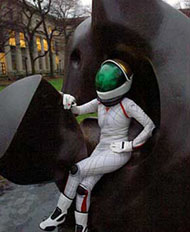 Designer Dava Newman is quite brave. She's stuck loads of photos of herself on the internet, wearing a tight space suit she made herself.
Only this isn't Star Trek cosplay. She's not being the Deanna Troi to our Commander Riker.