In addition to yesterday's In-Car Holder GPS unit for the 605 WiFi, Archos announced a couple of other additions to their popular PMP, including a firmware update allowing for Adobe Flash Player 9 support, Windows Media Video 9 compatibility, a plug-in enabling access to Web TV shows and radio stations, an update to Archos TV+, and a content distribution deal with Paramount Pictures and Deutsche Welle. Phew!
Touting their 605 WiFi and 705 WiFi models as being the market's only PMP supporting Adobe Flash Player 9, the upgrade for both that and WMV 9 can be downloaded for free if you already own one, however if you buy one now, you'll find it's automatically loaded with the update. These two supported…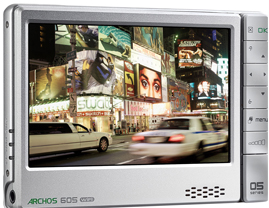 Archos has unveiled its new line of personal media players, dubbed Generation 5. It includes three new PMPs, the 405, 605 and 705, which for the first time will support Flash-based video from YouTube and other online video-sharing sites.